AVEC, Inc. developed the ROSSA (Road Surface Sound Absorption) system, a convenient tool to measure pavement sound absorption properties. The hardware and software specifications are based on the latest ISO standard (13472-2: Acoustics - Measurement of sound absorption properties of road surfaces in situ - Part 2: Spot method for reflective surfaces). The software and hardware components can be bought separately to upgrade an existing system or as a turn-key system including:
AVEC's ROSSA Software.
Detailed user manuals with step-by-step procedures.
Aluminum impedance tube (clear anodized).
Stainless steel calibration plate.
USB powered speaker system and cabling.
Two (2) GRAS 1/4" pressure-field microphones.
GRAS 42AB sound level calibrator.
NI data acquisition system (USB, 4 channels).
Semi-rugged laptop PC (with ROSSA software pre-installed).
Carrying case for ROSSA system and laptop.
Other optional items include:
USB remote for easy software control.
GPS module (to easily log test location).
---
ROSSA Software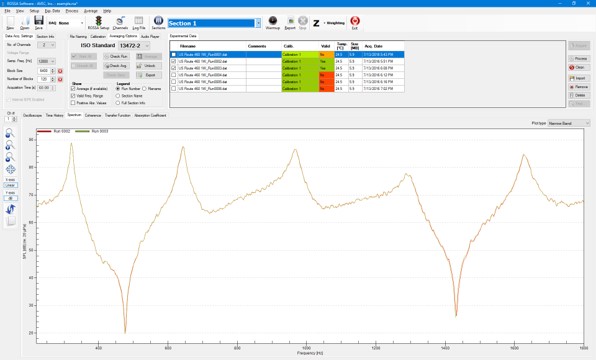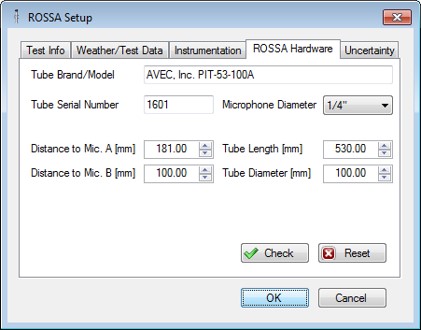 The software is the core of the system, designed with ease of use as the main priority. The layout and functionality reduce user interaction required during the test, and thus help minimize test time. Features like instant run validation and multi-section testing provide a hassle-free user experience. Software features include:
Intuitive user interface optimized for testing multiple road sections.
Processing and analysis according to latest ISO Standard.
Guided and automated calibration and testing procedures.
Instantaneous feedback about validity of calibration and measurements.
Data and calibration values are easily managed for each test location.
Automated report generation (word processor).
Figures and results can be easily exported (spreadsheets, word processor, etc.).
USB remote for easy software control during testing.
Perpetual license (annual renewal not required).
Other software features include:
Data acquisition, processing, analysis, and report using same software.
Automated file naming facilitates data acquisition during test.
Most settings can be modified for research purposes and validated based on ISO standard requirements.
Automated uncertainty estimation.
---